Summary:
To operate as part of a team in delivering an effective customer focused rooflessness and resettlement and Emergency Accommodation service. To be active in promoting and fostering effective working relationships with service users, colleagues and outside agencies with a view to enhancing the reputation of the organisation.
About Us: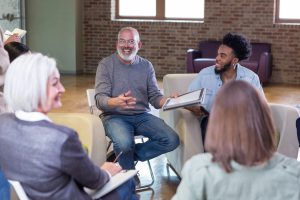 In 2018, the voluntary Boards of both Tai Ceredigion and Mid-Wales Housing Association announced that they had started on a journey of exploring closer collaboration between the two landlords.
By doing so, the new organisation is in a position to develop even more affordable homes and provide more significant employment and training opportunities for staff and tenants within the mid and west Wales region. The merger brings exciting new opportunities for tenants, residents, employees and local businesses.
Find out more about us here
Job Role:
The Night Projects Worker will work under the direction of the Night Shelter and Temporary Accommodations Manager / Temporary Accommodations Officer in carrying out the following tasks:
To maintain accurate objective records, including keeping an accurate log of all events occurring during the shift in the daily log book (and to debrief the project manager when possible)
To carry out planned sweeps of the accommodations, checking for health and safety concerns, excess noise and disturbances, and to deal with such matters in conjunction with colleagues.
To utilise the nightly on call service whenever necessary
To follow any requests or instructions noted in the daily log from the Project Manager.
To keep fully informed of Organisational information and development through communication channels available.
To maintain strong working relationships with other teams within The Care Society.
To comply with all relevant Organisational Policies.
To report any damage or fault to the appropriate authorities.
To assist Shelter Users and/or residents with queries and to 'signpost' them to the relevant agencies if necessary.
To carry out cleaning duties as and when required.
To participate in scheduled supervisions throughout the year
To represent The Care Society positively and professionally at all times.
To undertake any other duties as may be required
Download the job description and person specification HERE
Additional Information:
Salary: £10.90 per hour
Hours: 37 Hours (160 per rota period)
Responsible to: Emergency and Supported Accommodation
Location: Aberystwyth
To Apply:
Closing date: 11 December 2023 (midday)
(Please note that applications received after
this deadline will not be accepted).
Interview date: 21 Dectember 2023
To apply please follow this link: Jobs – Barcud – Work With Us
If you have any issues applying for this role please contact bev@charityjobfinder.co.uk